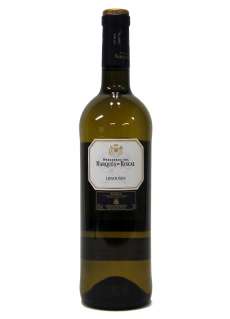 Marqués de Riscal Limousín White wine
Year: 2018
Winery: Bodegas Herederos del Marqués de Riscal
Alcohol: 13 %
Variety: Verdejo
Quantity: 75 cl
Wine made from a careful selection of Verdejo from old vineyards pruned in glass, located in the best gravelly terrain of the higher terraces of the Douro River. This grape's great adaptability and good acidity, enables an optimal fermentation and ageing on lees in casks of French oak. The manual harvest is performed in boxes of 15 Kg capacity for subsequent pressing of whole grapes, without de-stemmed. In this way the oxidation of the wort is limited to the maximum and all the aromas, color and freshness of this variety are maintained. After a slight clarification of the wort, fermentation takes place in barrels of 600 liters French oak 3 origins: Allier, Nevers and Vosges, followed by an ageing and Lees that can last about 6 months. During all the breeding is carried out battonnage twice per week, which consists of removing the Lees which are inside the barrel.
Wine of golden color pale, complex and elegant. On the palate is unctuous, with a background of fine Lees, nuts and toasted wood notes.
East wine pairs well with fish in sauce, white meat, even with not-too-strong sauces, roast lamb, grilled vegetables and legumes.
Marqués de Riscal: More products

Similar White Wines