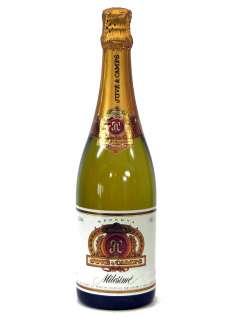 Juvé y Camps Milesimé Chardonnay
Winery: Juvé y Camps
Alcohol: 12 %
Variety: Chardonnay
Quantity: 75 cl
Endowed with a beautiful golden color and a superb foam. Multiple rosaries that form its fine bubbles rise regularly to maintain a Crown abundant and long-lasting. Complex, elegant and intense aroma. Almost immediately it evokes hints of fleshy fruits (melocoton-melon) and milk memories. Little by little, its aroma evolves gaining intensity and especially complexity. In the honey, grapefruit and toast are distinguished. Your palate is lush. Its effervescence, intense and friendly at the same time, permeates the palate of a wonderful creaminess. Equipped with a remarkable smoothness, its passage through the mouth is powerful and cool at the same time. A great aromatic persistence gives us this splendid cava.
Ideal to enjoy throughout a meal since its complexity improves the most versatile dishes: risotto, seafood, stewed, smoked dishes of sea and mountain, and strong spices.
Awards or Recognitions:

91 Parker points.

91 points Peñín.