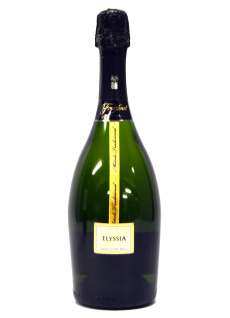 Freixenet Elyssia Gran Cuvée
Classification: Brut
Winery: Freixenet
Alcohol: 13,5 %
Variety: Parellada, Macabeo, Chardonnay, Pinot Noir
Quantity: 75 cl
The Elyssia range by Freixenet was born with the 1997 vintage. Modern cava that combines the mythical Chardonnay with the typical varieties of cava, fresh, universal and sweet. A cellar for lovers of Chardonnay. It combines the nocturnal mechanized harvest with the manual harvest of the Macabeo and Parellada diurnal. A really interesting blend that also contains a small percentage of Pinot Noir wine made as blanc de noirs.
The Elyssia Gran Cuvée cava is intense, with a high alcohol content and a powerful acidity, but it becomes soft and sweet on the palate and presents a long and harmonious finish.
Saline snacks, such as nuts, anchovies and anchovies combine perfectly. It combines well with escalivada and gnocchi.
Awards or Recognitions:

89 points Parker.

88 points Peñín.
Freixenet: More products