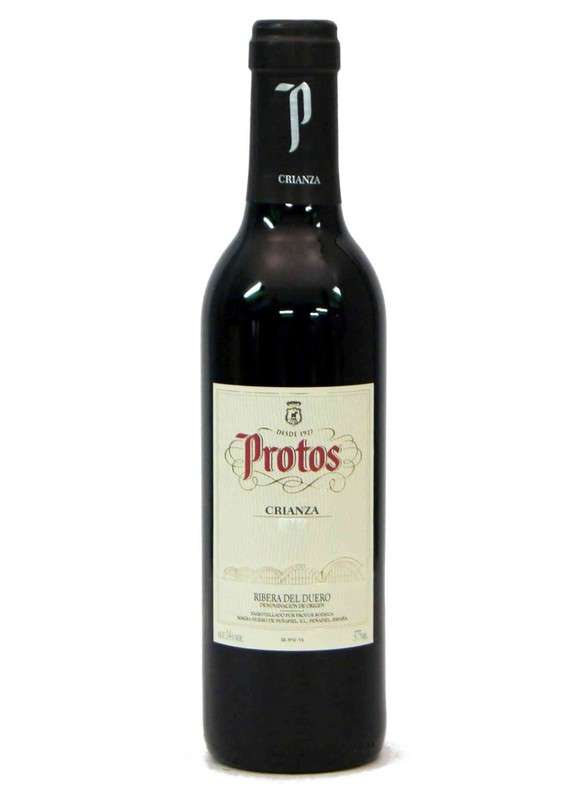 Classification: Crianza
Winery: Bodegas Protos
Alcohol: 13,5 %
Variety: Tempranillo
Quantity: 37,5 cl
Cherry colour with Garnet rim. You've never seen anything like. Fruit aroma ripe spicy tones, with toasted oak. Incredible sensation that will leave you in the mouth
meats: veal cutlets grilled, fried lamb chops, pork knuckle roasted, roast lamb, escalope of veal, baked lamb, tripe Madrid or with chickpeas, shredded beef, carpaccio of beef or veal, tongue of veal in sauce, stewed Sweetbreads, sauce pig's ear, oxtail...
hunting : quail sautéed or in sauce, rabbit with garlic, roast pheasant, Hare with rice and potatoes, filet of deer, stewed Partridge.
Cereals and pasta: rice with Partridge, chicken or rabbit, cannelloni, Spaghetti Bolognese, meat, noodles, Macaroni with sausage lasagna Bolognese.
Deli: head of wild boar, sausage, chorizo, foie gras, prosciutto, ham, sausage, blood sausage.
Eggs: in any of its forms or tortilla. Vegetables: white beans with chorizo, Asturian fabada, pinto beans and chickpea stew.
Molluscs and crustaceans: Squid in batter, cooked crayfish, snails, squid stuffed, gambas Al ajillo and steamed mussels.
Fish: tuna with tomato, cod, tuna with tomatoes or onions, marmitako.
Cheeses: pairs very well with any cheese.
Soups: soup of chickpeas, garlic soup, soup castellana, cocido madrileño and stews.
Vegetables: artichokes stewed, broccoli with potatoes, Zucchini squash, mushroom sauce, Brussels Sprouts with ham, potato salad, green beans with ham, stew of vegetables and potatoes with cod.