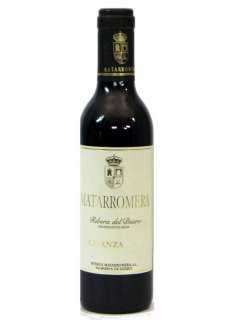 Matarromera 37.5 cl. Red wine
Classification: Crianza
Winery: Bodegas Matarromera
Alcohol: 14,5 %
Variety: Tempranillo
Quantity: 37,5 cl
Matarromera Crianza is the wine par excellence of Matarromera. It is a palpable sign of respect for the balance fruit and wood that characterizes the winery. Matarromera Crianza 2012 raised 12 months in barrels of 225-litre American oak forests of America located in the Appalachian. They are thin and toasted grain barrels average. During his upbringing, the wine will remain in rooms controlled humidity, Dim lighting. Wine is followed in detail during his upbringing so half of it is you made a transfer, to return again to barrel until the end of the breeding.
Tempranillo 100% 12 months in American and French oak barrels and other 10 months in bottle.
Cherry Red very uploaded with abundant violet tones of travel. Intense and complex, where powerful aromas in harmony with tones ripe black fruit and aromas of spicy new and noble wood. It is a tasty wine with generous step and powerful and long finish. It has elegance and intensity of the best Ribera del Duero.
Roast lamb, meat Grill, Civet, roasts, game, cheeses, Jamon Iberico de Bellota.
Similar Red Wines