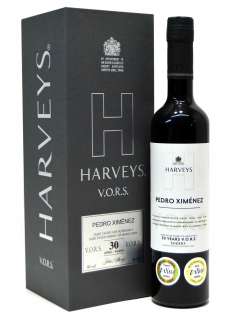 Harveys Vors Pedro Ximénez
Winery: Bodegas Fundador
Alcohol: 16 %
Variety: Pedro ximenez
Quantity: 50 cl
VORS wine of old age qualified and certified by the Sherry Wine Regulatory Council, which guarantees that they have aged for at least 30 years. This wine is subjected to a strict selection that produces only one thousand bottles of 50 centiliters of each one, representing Harveys as truly exceptional wines, which accumulate gold medals and special awards. Natural sweet wine made from 100% Pedro Ximénez grape aged by the traditional soleras system that was established in 1919.
Visual phase: very dark amber, edged with iodized tones. · Olfactory phase: on the nose it presents a great variety of nuances, aromas of raisined grapes that remind us of figs and dates accompanied by toasted notes that are accentuated with aging. · Taste phase: in the mouth it is warm, velvety and with a magnificent structure. It stands out for its balance, with perfectly integrated acidity and a long and persistent finish.
It is quite a dessert in itself due to its intensity of flavor, but if you want to enjoy pairing, it combines perfectly with the best bitter chocolates that highlight its flavor without taking center stage or gourmet blue cheeses.
Similar sweet wines