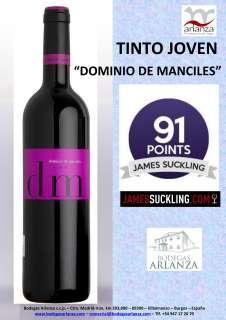 Dominio de Manciles, Tinto Joven Red wine
Classification: Young
Year: 2017
Winery: Bodegas Arlanza s.c.p.
Alcohol: 13.5 %
Variety: Cabernet \/ Sauvignon, Mencía, Tempranillo
Quantity: 75 cl
Minimum order: 6 Units
Grape varieties: 80% Tempranillo, 15% Cabernet and 5% Mencía. Eye streaked purple, bright Ruby color. On the nose, fine and complex, rich in fruity nuances where the hints of black fruits. In palate rich, complex, lean, with sweet tannins well fused with fruit. Final cool and finish complex and long.
Dominio de Manciles: More products