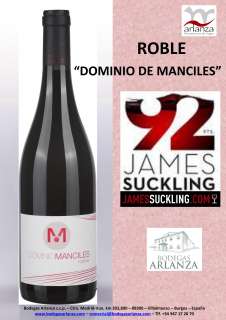 Dominio de Manciles, Roble Red wine
Classification: Crianza
Year: 2016
Winery: Bodegas Arlanza s.c.p.
Alcohol: 13.5 %
Variety: Cabernet \/ Sauvignon, Mencía, Tempranillo
Quantity: 75 cl
Minimum order: 6 Units
Grape varieties: 80% Tempranillo, 15% Cabernet and 5% Mencía. Aged for 4 months in oak barrels. Ruby red colour with purple piping. On the nose hints of ripe fruit with a wild twist, will appears wood on spicy tones and light smoked touch. In mouth, fleshy with slight sweetness, very tasty, maceration, greasy, very powerful tannin and memory of wood.
Awards or Recognitions:

Silver zarzillo
Dominio de Manciles: More products