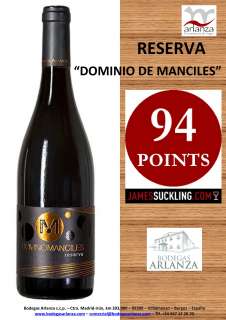 Dominio de Manciles, Reserva Red wine
Classification: Reserva
Year: 2014
Winery: Bodegas Arlanza s.c.p.
Alcohol: 14 %
Variety: Tempranillo
Quantity: 75 cl
Minimum order: 3 Units
Varieties: 100% Tempranillo. Matured in French oak barrels for 24 months. Color of layer medium high with tones ochre and small purple violet. Long breeding, dried grapes and ripe fruit aromas. Entry on the soft palate but with long end, persistent flavors.
Dominio de Manciles: More products