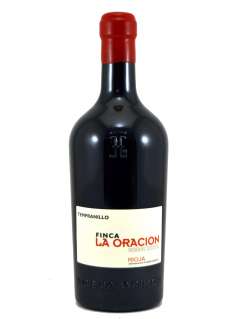 Finca la Oración Red wine
Year: 2017
Winery: Hacienda Grimon
Alcohol: 13,5 %
Variety: Tempranillo
Quantity: 75 cl
From the estate with its own name, this wine is born.
This wine is the result of draining the oruja during the night (tear or essence of the wine) before pressing and placed in a new barrel to carry out the second fermentation (malolactic fermentation).
Color: cherry red, young medium-high layer.
Nose: without moving the glass, the wine gives off aromas of ripe black fruits and exotic spices.
Mouth: in attack he presents his power. It is silky and marked by ripe fruits and a hint of citrus. The palate is velvety and the tannins are in good balance with the fruit and roasted notes. The aftertaste is warm but at the same time fresh due to the good acidity.
Similar Red Wines