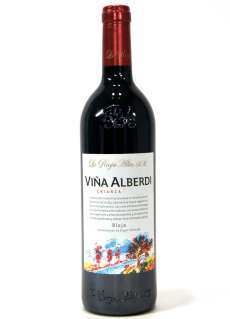 Classification: Crianza
Year: 2014
Winery: Bodegas La Rioja Alta
Alcohol: 13,5 %
Variety: Tempranillo
Quantity: 75 cl
After fermentation, the wine started upbringing of two years in barrels of American oak of own manufacture: the first year in new oak and the second at an average age of 4 years oak. Four were racking manuals in the light of the candle.
Red cherry, medium, Orange, clean and bright-edged layer. Its nose is intense, with domain of ripe fruits, Strawberry Jam, which rounded off a bottom of notes from aging in oak barrels, cocoa, vanilla, caramel, and smoked. Mouth it shows medium-bodied and with a pleasant acidity, soft and round tannins giving a pleasant step by mouth. Aftertaste is intense, persisting memories of jams strawberry, cocoa and vanilla, with a seductive final acidity.
A suitable companion of aperitifs, snacks, snacks and barbecues, resulting perfect with rice, pastas and soups in general, as well as with meat and grilled mild fish.
Awards or Recognitions:

89 points Peñín.