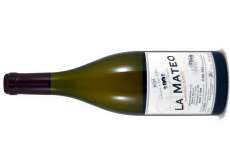 La Mateo Tempranillo Blanco White wine
Year: 2017
Winery: Bodegas d.Mateos, S.L.
Alcohol: 13 %
Variety: Tempranillo
Quantity: 75 cl
Aging in barrels in the presence of its lees for 6 months with weekly battonages.
Straw yellow with greenish iridescence, clean and bright.
Elegant, complex and intense. Fruity notes of Paraguayan, nectarine and grapefruit, which evolve towards white flowers such as orange blossom and jasmine. Finally, creamy aromas of aging, white chocolate and butter appear.
Complex, fatty and with a very long aftertaste in which the fruity notes merge with the creamy and toasted touches of the wood. Very well balanced acidity that promises a long longevity.
Fatty fish,
shellfish, salted anchovies
and
white meats.
Similar White Wines