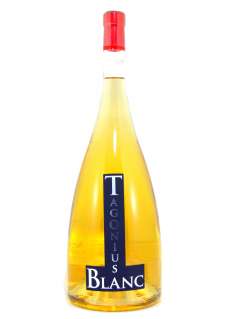 Tagonius Blanc Magnum White wine
Year: 2018
Winery: Bodegas Tagonius
Alcohol: 13 %
Quantity: 1,5 liters
The production begins with a cold film maceration for 6-8 hours, subsequently extracting the must with a gentle pressing. After static draining of the must at
low temperatures, a slow fermentation is carried out at 13 ºC (26 days).
Visual phase: Clean, bright, straw yellow with golden hues. Olfactory phase: Intense, complex and elegant, the tropical (pineapple) and floral (white roses) tones stand out. Taste phase: Soft and refreshing entry, very intense in the mouth, it stands out for its aromatic complexity and freshness, leaving a long and elegant aftertaste.
Seafood and white fish, cooked or grilled. Salads Smoked. White meats. Fresh cheeses.
Similar White Wines