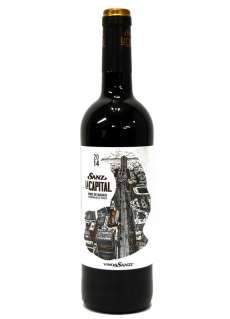 Year: 2017
Winery: Vinos Sanz
Alcohol: 14 %
Variety: Tempranillo
Quantity: 75 cl
It comes from the vineyards of more than 40 years of age, located in the southeast of the community of Madrid, with low yields and high quality organoleptic and Polyphenolic grapes. The development is traditional with fermentation temperature controls, light overpumping and short maceration with the skins, not to exceed the tannic load, resulting in a round and balanced wine.
Monovarietal TEMPRANILLO, bright cherry with intense violet colour. On the nose, it presents a clear expression of red fruits with a suggestive floral background. Intense and frank. Full, sweet and cool in its passage through the mouth, with elegant hints of red berries. Long and persistent finish.
Pairs perfectly with cold meats and cheeses as well as more complex as roasts, stews and meat dishes.