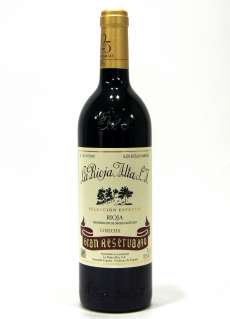 Classification: Gran Reserva
Year: 2005
Winery: Bodegas La Rioja Alta
Alcohol: 13,5 %
Variety: Tempranillo
Quantity: 75 cl
This brand is exclusively produced in extraordinary vintages and 2001 is one of the best we remember. A mild winter and the good rains throughout the cycle allowed an excellent development of the vineyard. The magnificent State of health remained during maturation, very sunny days and nights with accused thermal declines, conditions essential to obtain high quality wines. For its elaboration, we are spending the oldest vines, planted in poor soil and with a high proportion of limestone. We obtained a very low production with loose clusters and smaller grains than in previous harvests, in addition to an excellent pulp ratio. Grapes presented a superb balance of all its components and excellent quality Polyphenolic and aromatic. All this has prompted his statement, for the first time in this brand, as special selection.
Ruby red color with intense Orange frame, layer half, clean and bright. High aromatic intensity, with a classic bouquet in which stand out the Balsamic and spicy notes of coconut, vanilla and Mint chocolates that cover notes of fruits mature. Great body and structure in mouth, it is sophisticated, balanced and with marked tannins of exceptional elegance and finesse, leaving a very long aftertaste, spicy and complex. A great reserve 890 unique, full of records intense and deep, which is a long life in the bottle.
Recommended second dishes without heavy sauces, stews of meat with aromatic herbs and desserts with chocolate. It is ideal as a Cup after lunch.