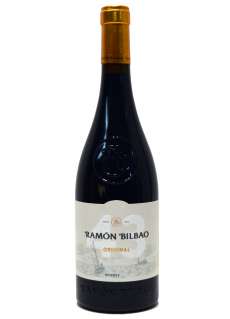 Ramón Bilbao Original Red wine
Classification: Reserva
Year: 2014
Winery: Bodegas Ramón Bilbao
Alcohol: 13,5 %
Variety: Tempranillo
Quantity: 75 cl
Traditional elaboration. Carbon dioxide snow cold pre-fermentation maceration. Destemming, with daily overpumping combined with 0ver and delestage. Fermentation in wood temperature-controlled (28 ° C) tino. Malolactic fermentation in barrel.
Aging: 20 months in single-use of 225l French oak barrels. Bottling: September 2014.
Color is cherry red of high layer. Fragrant and complex range of aromas with hints of BlackBerry, liquorice and notes at the bottom of nail and graphite. The palate is alive and surround with sensations of plums, Balsamic and mineral that merge in a flavourful and persistent final very round.
Is perfect to accompany beef, smoked meats, soft cheeses and international food.
Ramón Bilbao: More products