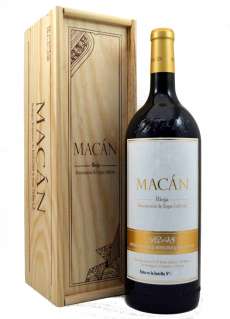 Year: 2016
Winery: Bodegas Vega Sicilia
Alcohol: 14 %
Variety: Tempranillo
Quantity: 1,5 liters
The first wine of the new project between Benjamín de Rothschild and Vega-Sicilia in Riojan lands, specifically in San Vicente. In fact, the name of this wine, as well as its second wine, comes from the word that is used colloquially to designate the inhabitants of San Vicente de la Sonsierra. Year of planting from 1902 to 2005. Altitude: 420 - 480 m. above sea level. Soil type: Predominance of calcareous clay.
As is tradition in Bordeaux, this new winery produces two wines, one more powerful and complex, Macan, and another more accessible.
Macán is made from tempranillo strains between 35 and 90 years of age and later aged for 15 months in French oak. It is a wine with an unusual elegance, powerful, elegant, expressive, velvety tannins and a unique characteristic, its minerality.
Cherry red, ruby edging. On the nose: Powerful, fruit in season, clean, expressive, elegant, ripe red fruit. In the mouth: robust, velvety tannins, mineral notes, tasty, good acidity, long.
Similar Red Wines