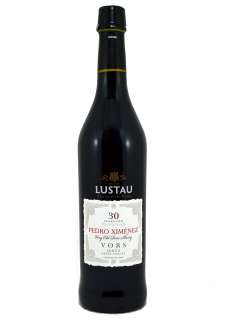 Lustau Pedro Ximénez Vors 50 CL.
Winery: Bodegas Emilio Lustau
Alcohol: 15,5 %
Quantity: 50 cl
Lustau VOS (Very Old Sherry) Pedro Ximénez has its origin in the search and selection that Manuel Lozano, former Lustau winemaker, carried out among the oldest soleras of this wine that the company ages in its Jerez wineries. This wine comes from a 6-barrel solera.
Dark and opaque mahogany in color, with iodized trims. Overflowing with aromas of dried fruits, raisins and figs, with notes of roasted coffee. In the mouth, notes of toasted caramel, liquorice, dried fruits and dark chocolate predominate. Complex and deep, with a very balanced final acidity that prevents it from being cloying.
Serve in a wide-mouthed glass. We recommend enjoying it slowly, appreciating how the wine evolves, its aromas and sensations.
Similar sweet wines