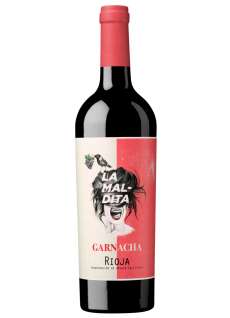 La Maldita Garnacha Red wine
Year: 2019
Winery: Viñedos La Maldita
Alcohol: 14 %
Variety: Garnacha
Quantity: 75 cl
A trend red, fresh, easy to taste. An agile wine, from old vineyards in the Tudelilla and La Rioja Central areas. A part of it is aged in barrels for three months (30% of production), while the rest matures in storage in contact with its lees.
La Maldita Garnacha is a wine with a lively ruby color.
On the nose it is uncovered as an intense wine, where the red fruit: raspberries, blackberries, strawberries and cherries are evident. There is no appearance of the aromas associated with the barrel, although even so, La Maldita Garnacha in this olfactory phase could be defined as a complex wine.
In the mouth we find a wine with a good acidity, fresh, again we find the fruits pointed on the nose but with more pronounced notes of maturity, we could say that even raisined. Long step and very good persistence.
Red Meats, Rice with meat, Rice with Mushrooms, Sausages, Beef Carpaccio, Beef Carpaccio, Manchego Cheese, Ham
Similar Red Wines