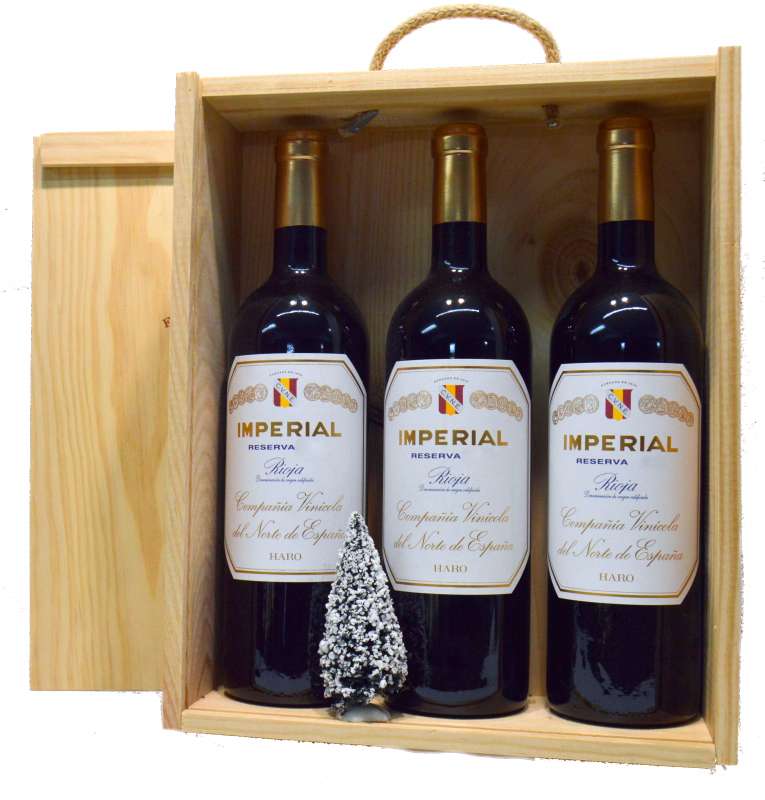 3 Imperial en caja de madera Red wine
Classification: Reserva
Year: 2014
Winery: C.V.N.E.
Alcohol: 14 %
Variety: Tempranillo
Quantity: 75 cl
Selection of the best grapes harvested manually in our payments of Rioja Alta. After fermentation, the wine is maintained in tubs a few days more, extending the maceration process to obtain desired color and structure. After fermentation, i.e. the transition from Malic acid to lactic, is done in barrels producing the wine leaving it in its appropriate acidity tuning. This wine has been raised in French and American oak barrels before being clarified in a traditional way
and
bottling. Once in bottle, it rests in our cellars under the appropriate humidity and temperature conditions completing his upbringing until the optimum time of consumption.
Intense maroon with cherry undertones. Great aromatic complexity with perfect balance between the varietal aromas such as candied fruit, licorice and toasted their stay in barrels, cafés, from, cocoas and soft balsamic notes... In mouth it presents round and gentle tannin causing a broad aftertaste with fruity notes. It is an extremely elegant and with its own wine
suitable for pairing with hunting, Grill, meat, cheese...
Similar Red Wines