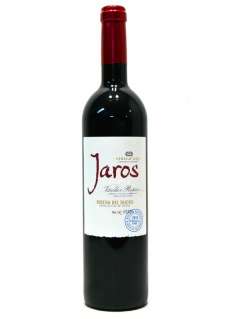 Year: 2016
Winery: Viñas del Jaro
Alcohol: 14 %
Variety: Tempranillo, Cabernet \/ Sauvignon, Merlot
Quantity: 75 cl
It's our estate wine comes from grapes from various payments, and shows the General Assembly of all of them. The different wines are assembled after the aging in new barrels and sophomore, and which is usually 15 months. The main used variety is Tempranillo, with small contributions of Cabernet Sauvignon and Merlot.
Maceration time: 14 days with their skins. Aging: 16 months in new barrels and one year in 300 litre French oak. Fermentation: 12 days at 26 ° C.
On the nose develops aromas of frutillos of the forest over nuances Balsamic and Mint, with spicy notes and fine woods. In the mouth is broad, balanced and with a persistent aftertaste very fruity and mineral character through aftertaste.
Pasta with sauce, meat, white meat, roasted red meats, mushrooms, moussaka, Jamón Ibérico de Bellota, birds.