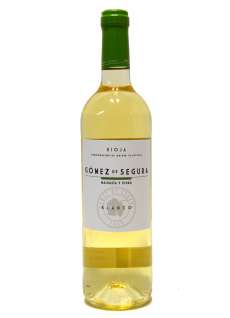 Goméz de Segura Blanco White wine
Year: 2017
Winery: Bodegas Gómez de Segura Ibáñez
Alcohol: 12,5 %
Quantity: 75 cl
PREPARATION: Is it stemmed and crushed in a mechanical way, maceration for 5 hours at low temperature. The must along with the Lees fermented in stainless steel tanks for 20 days at 16 ° C.
Pale and bright colour with greenish reflections. Aromas of fresh fruits and freshly cut grass, with a fine and elegant expression of the variety. Very fresh and balanced in the mouth. Balance of flavors, fruity and warm.
East wine is very appealing with salads, seafood, soups and various creams, fish steamed or fried, cooked vegetables au gratin. Poultry and smoked several. Appetizers and not very sweet desserts.
Similar White Wines