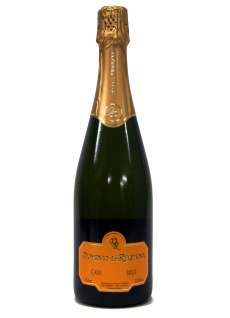 Freixenet Excelencia Nature
Classification: Brut
Winery: Freixenet
Alcohol: 11,5 %
Variety: Parellada, Macabeo
Quantity: 75 cl
Excellence Freixenet Brut Nature is made after the alcoholic fermentation at controlled temperature. The crianza or ageing in rhymes, is performed for approximately 18 months.
Excellence Freixenet is a cava special, very evolved and reducing curfews, characterized by long aging of the wine in contact with the Lees.
Is a cava of pale straw-yellow colour and abundant bubble of medium size, with constant detachment, which is a light cord to reach the surface of the Cup. On the nose the aromas of youth are appreciated in harmony with the varietal aromas and acquired throughout the months of breeding. In the mouth is fresh and dry, with presence of subtle notes of ageing.
All kinds of meals.
Freixenet: More products