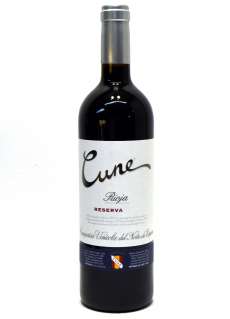 Classification: Reserva
Year: 2015
Winery: C.V.N.E.
Alcohol: 13,5 %
Variety: TEMPRANILLO, Grenache
Quantity: 75 cl
Aged for 24 months in French and American oak barrels, 12 months in bottle
intense Garnet colour. Attractive aroma of fruits of the forest and plum jam in perfect balance with the sweet aromas of vanilla, toffee and coconut from the barrel aging. In mouth is a wine with personality, with polished tannins that appears to give flesh and structure. In the retronasal aroma are licorice and anisés, this gives us the freshness that urges us to continue drinking.
Is perfect for pairing spicy, red meats, stews and stews.
Cune: More products