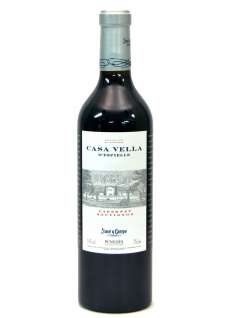 Classification: Reserva
Year: 2005
Winery: Juvé y Camps
Alcohol: 14 %
Variety: Cabernet Sauvignon, Merlot
Quantity: 75 cl
On the family property of Mediona, in the Highlands of the upper Penedès 650 metres above sea level, is born this wine, made from grapes basically Cabernet Sauvignon. These farms offer the best conditions of soil and climate for the development of this noble variety. Aged for 12 months in French and American oak barrels, then 2 years in bottle.
Intense and dark red cherry with Ruby-colored edges. Abundant tear. Intense and complex aromas. Expressive ripe black fruit appearing together initially to fine notes and roasted Mediterranean vegetables with a prominent red pepper. Little by little, many spicy notes, with a marked reminder of tobacco and cocoa together with many herbaceous and smoky notes appear. Subtle balsamic.
A wine of deep, concentrated, meaty. Wide entrance, with much volume. A warm wine, with a long run of very expressive, balanced and structured. Tannins, somewhat drying, and with excellent acidity. Long and persistent finish.
Stew chicken, roast lamb, beef to grilled, roasted, hunting, goat cheeses, sheep's cheese, cheeses.
Awards or Recognitions:

89 points Peñín.