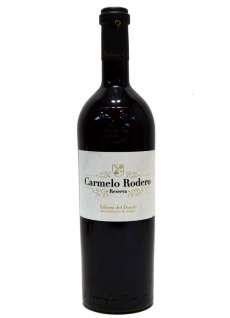 Classification: Reserva
Year: 2017
Winery: Bodegas Rodero
Alcohol: 14 %
Variety: Tempranillo Cabernet Sauvignon
Quantity: 75 cl
From our own vineyards with more than 30 years.
Is a great wine, very balanced and suggestive, an intense cherry red colour with soft notes of violet, which marks its aging bright-edged tiles and amber.
Nose of great subtlety with aromas of ripe fruits very well combined with ageing in wood, which leads to special aromas (vanilla, cinnamon) to the stimulating scent of coffee or toasted.
Very meaty in mouth, balanced acidity and long finish. Harmonious mature and soft tannins that fill the palate with pleasant sensations.
To accompany traditional dishes of spoon, meat and fish stew. Cooked, cured meats, vegetables, red meats to grill, grilled red meats, stews, semi-cured cheese and fried eggs with ham, red meat with sauce.
Carmelo Rodero: More products

Similar Red Wines