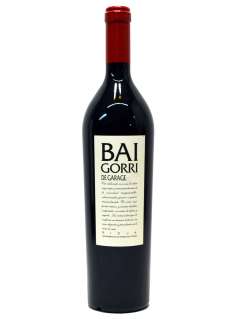 Baigorri de Garage Red wine
Year: 2014
Winery: Bodegas Baigorri
Alcohol: 14,5 %
Variety: Tempranillo
Quantity: 75 cl
Red wine made from very old vines of scarce production. The Tempranillo grapes are selected by hand, grain to grain, using selection and vibration tables. Long prefermentativas maceration in wooden vats that allow you to extract all the primary aromas of the grapes later, and after the alcoholic fermentation, move to the phase of pressing using, especially for this wine, a press vertical.
Wines, along with Lees, are placed in new French oak barrels which are entered into a special quarters atemperaturas around 200 to perform malolactic fermentation. Completed this phase all the barrels go to occupy a controlled Gallery protected from outside climatology, which in the winter months is hard, reaching temperatures below zero in many cases.
Regularly all the barrels are controlled by personnel laboratory, being a tasting panel to decide the time that this wine will remain in the barrel.
The unique characteristics of the grapes used, as well as the esmeradisimo process that follows, makes the production of this wine is limited, depending on the years and that, accordingly, be it the exclusive wine of the winery.
Cherry colour, aromas of fruit Compote - da, aromatic herbs, bread and figs. Feeling of macerated fruit, plums, tobacco and smoky, licorice. Very tasty and round,
Similar Red Wines