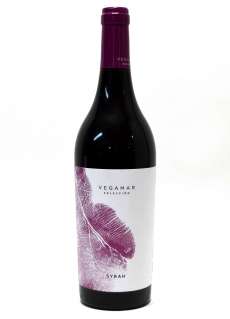 Year: 2017
Winery: Bodegas Vegamar
Alcohol: 13 %
Variety: Syrah
Quantity: 75 cl
We select the best mature syrah grapes from our payments and harvest them at night to take advantage of the coolness of the same and prevent oxidation during the grape harvest to the winery. We have trailers hopper going directly from the vineyard to the winery.
Vintage receives during the night in the cellar and we proceed to the Destemming and crushing. We apply liquid CO2 at - 30 ° C for cool vintage online at 10 ° C and avoid oxidation on the grape juice.
We marinate 3 days at 10 ° C with overpumping abundant and once fermentation has started left to raise the temperature at 28 ° C to obtain the color and deplete the sugar. We use our selection of yeasts.
Microxigenamos wines for stabilizing color and carry out malolactic fermentation in tanks with our selection of lactic acid bacteria cultures.
Color: intense red with purple reflections
scent: high intensity, combining the aroma of red fruit, ripe with a balsamic and light memories of licorice
taste: in the mouth is wide, smooth, velvety with good ripe and elegant tannin structure . The finish is long and fresh.
Ideal for pairing with rice baked, red meats and various sausages.