Vega Sicilia Especial (Venta ) Red wine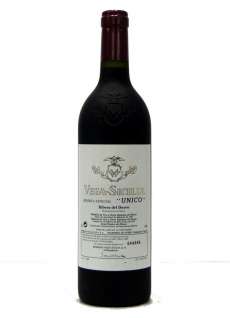 Classification: Reserva
Year: 2018
Winery: Benjamín de Rothschild & Vega Sicilia
Alcohol: 13,5 %
Variety: Tempranillo Cabernet Sauvignon
Quantity: 75 cl
It is the red wine that does not add, mix of the best harvests, and that shows the concept more stable Único. With this wine, the winery wishes to continue a very old Spanish custom and also combine the balance between vintages.
Traditionally, in Spain, the very few wineries that had a bottling process (most sold their wines in bulk) produced two types of wines in every Vintage: year course and other wine without a specific harvest, which they called "Special reserve". It was a mixture of wines from the best harvests which fell the winery's flagship wine.
Vega Sicilia, this wine is the synergy between the nobility of oak and the grape race. It is the wine where the best of each year is concentrated to make truly a red design.
Cherry colour with purple Ruby. Discrete nose where mingle cabinetmaking aromas, fruit type wild cranberries or currants and Mint notes from English tobacco. Mouth attack step, full of fine and elegant mouth with a lingering finish aromatic level. Unique style in all its expression and appearance in terms of discretion, elegance and complexity.
Wine of great spectrum because it admits its pairing with meat and hunting, both roasted and Braised, grilled pastes, creams and soups, prepared with vegetables such as some beans with ham or cabbage with bacon, fish such as hake in sauce and the fish stew. Its enormous possibilities allow you to combine with elaborate recipes where you can appreciate in its entirety the brilliance of this great wine.
Vega Sicilia: More products