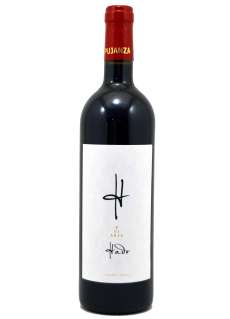 Year: 2016
Winery: Bodegas y Viñedos Pujanza
Alcohol: 14 %
Variety: Tempranillo
Quantity: 75 cl
Pujanza Hado is a frank and direct wine. A Tempranillo that represents and marks the Laguardia area with its freshness and typicity. It is the only one of the Pujanza wines that comes from several vineyards, divided into 23 parcels, which allow us to vary the final blend each year depending on the characteristics of the vintage.
Cherry red, clean, bright.
On the nose it is young and alive, predominating the characteristic red fruits of the Tempranillo of the area, accompanied by very subtle floral and light toasted memories.
In the mouth, Hado is powerful and expressive. It has an acidity that keeps it fresh and attractive and a polished and friendly tannin.
Rice with meat, breaded kid ribs and duck with red berries.