Valbuena (Magnum) Red wine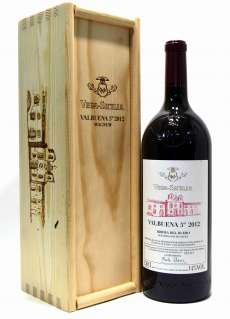 Classification: Reserva
Year: 2013
Winery: Bodegas Vega Sicilia
Alcohol: 14,5 %
Variety: Tempranillo, Cabernet \/ Sauvignon, Merlot
Quantity: 1,5 liters
The Red Valbuena is a shorter than the Vega Sicilia Único breeding. It is a wine that comes from somewhat younger vines and, in its composition, is mostly tempranillo and more merlot than cabernet sauvignon. He has his older brother color cherry maroon with orange trim, the Ethereal expression of its alcoholic and the accent of its excellent oxidative evolution, fruit of an oak well tanned, characteristic of the red wines of the firm.
Cherry colour with Garnet rim. Aroma of ripe, mineral fruit, dry stone, creamy oak and sweet spices. In mouth it is delicious, elegant, spicy and good acidity
combines well with soups and prepared vegetables such as porrusalda, Pesto with cooked with foie, birds as the plump chicken or capon, meats grilled, cibet's Hare, casseroles and stews of meat or egg, rice with vegetables, or lobster, lamb roast or stew.