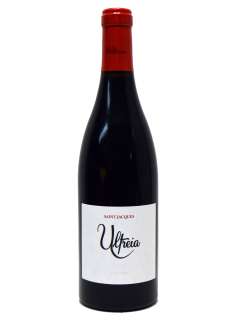 Ultreia Saint Jacques Red wine
Year: 2019
Winery: Bodegas y Viñedos Raúl Pérez
Alcohol: 13,5 %
Variety: Mencia
Quantity: 75 cl
Vine plant of medium erect size and medium vigor, not very thick branches, trilobed leaves and dark green color. Rather small to medium berry, purple black in color, clusters of conical shape and medium size. -
- Depending on the production sub-area, the vintages extend from the first week of September to the first week of October. The musts, rich in sugar, present velvety sensations. The wine is fresh, with a subtle aroma and complex sensations. It is made with the entire scratch and fermented in oak vats that are open for two to five months.
The aging takes place in fudre, in 225 barrels and in cement. It is bottled without clarifying or filtering.
On the nose notes of violet and fresh aromas of marked mineralization appear. Certain cappuccino memories are present: it has a very interesting nose with a long development of nuances. In the mouth, the ground is perfectly represented with a certain calcareous flavor, an excellently integrated acidity. It is an exuberant wine, with a lot of volume, round and appetizing.
White meats with sauce, roasted red meats, steak tartare, grilled lamb, sheep cheeses.
Similar Red Wines