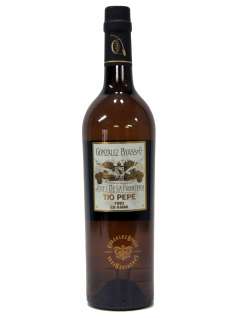 Tío Pepe en Rama Sweet wine
Winery: Bodegas González Byass
Alcohol: 15 %
Variety: Palomino
Quantity: 75 cl
Arrives Tio Pepe in branch 2015, a wine alive and exciting, best historical wineries Uncle bedplates boots from Pepe: Tio Pepe Constancia and Tio Pepe Rebollo. Limited Edition, this bottled delicacy is extracted from those boots that stand out for their unique organoleptic and Manuel María González, founder of Gonzalez Byass, qualify as exceptional boots parenting.
2015 Edition label has been obtained from historical and original designs that Gonzalez Byass Foundation, through its historical archives, preserves.
Inspired by the days in which the fine was consumed directly from the boot, the thin branch has not been subjected to the normal processes of clarification and filtration. TIO Pepe in branch, Tio Pepe in its pure State, expresses the uniqueness of sherry and shows a fine form more natural and sensitive.
Pale yellow with reflections olive green and gold, is elegant on the nose, which highlights the distinctiveness of the 'flower', intensified by its nature not refined. Aromas of almond and yeast are accompanied by a fresh, intense and complex palate with a saline and very expressive end.
Similar sweet wines