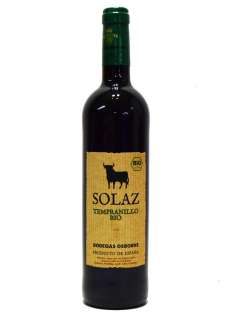 Solaz Tempranillo Bio Organic wine
Year: 2019
Winery: Bodegas Osborne
Alcohol: 13 %
Quantity: 75 cl
Elaboration: Both in the preparation of the ground and in the winery, all processes are classified as Bio. The culture is done organically, without pesticides or fertilizers. These ecologically sustainable viticulture and viticulture practices get the Tempranillo grape to reach an excellent quality.
The winemaking begins with cold maceration and fermentation in stainless steel tanks at controlled temperature of 23 ° C. They are subtly pumped so the color and aroma can be sublime. Then follows the malolactic fermentation at constant temperature of 22 ° C and they are then bottled.
View: El Solaz Tempranillo Bio has a red cherry with violet hues.
Nose: intense Aroma of red fruit and berry-flavored.
Mouth: dense and balanced structure with a subtle acidity characteristic of the varietal Tempranillo.
Balance between the nature of the wine and the ease with which you drink makes it the perfect companion to Asian cuisine, poultry, charcuterie and cheeses.
Similar Red Wines