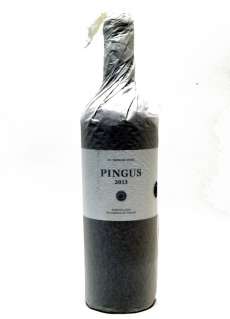 Year: 2013
Winery: Bodegas Dominio de Pingus
Alcohol: 14,5 %
Quantity: 75 cl
The Danish Peter Sisseck put on the market the first Pingus in 1995. Harvested enthusiasm and, above all, 98 points granted by Robert Parker already in that first vintage became le cult winemaker. It was the first Spanish wine to reach the top of the prestigious list of the American critic. But the road to glory did not stop here and later garnered the coveted 100: Pingus 2004 was one of the first five Spanish wines to be deservedly proud of having reached the maximum score.
The subsequent fermentation is completely natural; practice that keeps better pigmentation and that the wine retains its aroma and fruity taste. The process of maceration and fermentation lasts about twenty days and then the wine goes into the barrels for malolactic fermentation.
Wine is left resting between 20 and 23 months without transfer, up to a month before bottling, when the Lees are removed so that the wine is completely clean. It is not filtered or clarified, to to respect its natural qualities.
View: sensual Dark Violet Color.
Nose: cherries, blueberries, blackberries.
Mouth: full body. Robust and powerful, with great weight and presence.
Big game, stews of pork, ham, lamb in the oven.
Awards or Recognitions:

96 points Parker.
Similar Red Wines