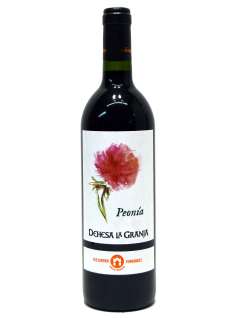 Peonía - Dehesa La Granja Red wine
Year: 2007
Winery: Bodegas Viñedos Fernández Rivera
Alcohol: 14,5 %
Variety: Tempranillo
Quantity: 75 cl
Peony is a wine from the Dehesa La Granja Winery, first developed in 2007. This wine reveals a new style of ageing, with less barrel and more bottle, and shows a more fruity and silky character. Its grape comes exclusively from the Pago de El Pinar, one of the best plots of Dehesa la Granja for its good drainage and excellent maturation that reaches every year the grape in that area due to its orientation to the south. Peony is a wine that has spent 9 months in American oak casks and with a prolonged ageing in bottle to meet the minimum aging that its winemaker, Eva Fernandez, demands in the elaborations of Dehesa la Granja.
Dark garnet Color with tile reflections. Wide in floral touches interlaced with memories of balsamic aromas and a background of tertiary aromas. Roundness and silkiness in mouth, with a final bitterness point.
Although it can be enjoyed alone, it also surprises by its harmony with sweet foods, especially with chocolate.
Similar Red Wines