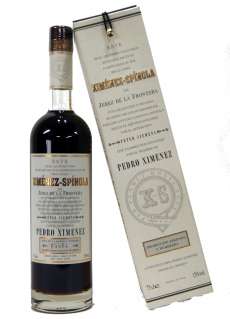 Pedro Ximénez Ximénez-Spínola Sweet wine
Winery: Ximénez-Spínola
Alcohol: 15 %
Variety: Pedro ximenez
Quantity: 75 cl
Elaboration: 100% wine Pedro Ximénez pass, nothing atypical ratio, since the pasificar is only obtained 30 litres of grape must, by every 100 Kilos of grapes.
Each year different selected items from our hearth, are bottled without modify or stabilize.
The result is an aromatic broth aged in natural conditions. Both the color and density, are the own of the soleus muscle, the concentration of sugars natural, and oxidative ageing in oak barrels.
Color: at first glance, once in Cup, shows a color ebony of high intensity (nearly Zaino) with iodinated, very bright reflections. Slowly move the Cup, Teardrop betrays the intensity and the graduation of this very old Pedro ximenez
scent: notes of roasted coffee and dark chocolate cover typical of aging, which give it an elegant touch.
Taste: in the mouth it is pure candy, raisins, dates, figs. All the dried fruit that oozes is incredibly well assembled with wood, leaving the long end a few exquisite bitterish flashes.