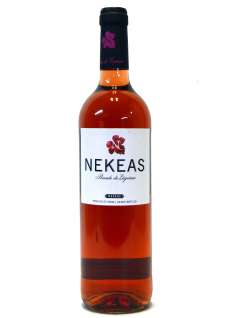 Year: 2015
Winery: Bodegas Nekeas
Alcohol: 14 %
Variety: Garnacha
Quantity: 75 cl
The bottom of the Valley of Nekeas grapes which by their orientation and type of soil provide us the perfect balance between the sweetness of a good concentration and correct acidity were chosen. Teardrop
tear must is obtained through the bleeding after a short period of maceration. You get something less than 40% of grape juice that corresponds with the best quality. Maturity, balance, smoothness and freshness are Teardrop wine descriptors. Long and controlled fermentation. No malolactic fermentation. Clarification if required, cold stabilization, micro filtration and bottling.
Suggestive and bright color strawberry. Explosion of aromas of raspberry, BlackBerry and strawberry that invites you to swallow. Medium-bodied and excellent acidity which provide a sweet ending in the mouth at the same time that very refreshing.
Excellent aperitif at any time of the year, although we recommend it enthusiastically during the summer. Fabulous harmony with paella, pasta dishes and pizzas.