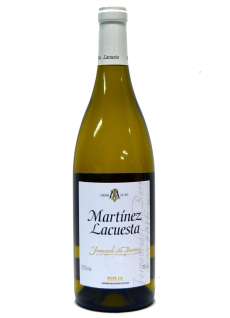 Martínez Lacuesta Fermentado en Barrica White wine
Year: 2019
Winery: Bodegas Martínez Lacuesta
Alcohol: 12,5 %
Quantity: 75 cl
White wine made from grapes of the variety viura. It has remained on its own Lees in barrels of Central European acacia (10%), and French oak from Allier (35%) and American from Missouri (55%) for a period of three months.
greenish pale yellow colour with slight shades of oak. On the nose, feels the subtle fragrance of oak, toasted on a mellow background of fresh fruit, seasoned with the peculiar scent of ripe banana, which gives the acacia. Mouth offers a fresh and acidic, entry aggregated with the gustatory slight tinge of oak, under which persists the feeling of candy.
Suitable for all kind of fish and seafood, rice, or foie gras.
Martínez Lacuesta: More products