Marqués de Vargas Selección Privada Red wine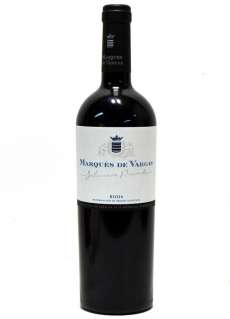 Year: 2011
Winery: Bodegas Marqués de Vargas
Alcohol: 14 %
Variety: Tempranillo\/Cabernet Sauvignon, Grenache
Quantity: 75 cl
Elaboration: Classic with Destemming. Each plot is fermented separately in stainless steel of 10,000 liters tanks for 11 days, controlling the temperature at approximately 30oC. Remontages per day, 14 days with the skins after fermentation. To achieve balance of fruit and tannins extraction, daily necessary are carried out. The malolactic fermentation - is carried out partly in tanks and partly in new barrels.
Aging: 23 months in Russian oak barrels. Regular racking every 4 months at first and then every 6 months
color stability. Aroma of eucalyptus, menthol, very fresh and persistent. In the mouth it is tasty, with sweet tannins, while long, exquisite, due to the good combination between acidity and tannins from the oak of the Caucasus. It is sophisticated, elegant and with long life.
Cured Acorn ham, grilled red, hair, cured cheese hunt.