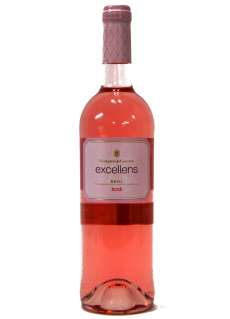 Marqués de Cáceres Excellens Rosado
Year: 2019
Winery: Unión Vitivinícola
Alcohol: 12,5 %
Variety: TEMPRANILLO, Grenache
Quantity: 75 cl
Made mainly from the bleeding of Grenache grapes from vineyards in high and cool areas of Rioja. Later mingle with others tempranillo and viura musts to be fermented together at low temperatures in stainless steel tanks.
Light pale pink coat. Floral nose where highlights a very fine fragrance. It slides on the palate with harmony, the flavor of delicate red fruit is expressed like a caress the palate for freshness on a background of restrained intensity, set reveals a great elegance.
Mediterranean cuisine, barbeques and meals on the terrace you agree of wonder. Delicious with the pecking of appetizer and salads mixed with balsamic vinegar. Perfect for fish, and white meats. Excellent Mediterranean cuisine: vegetables sautéed in olive oil, paella, pasta, pizza and dishes seasoned with spices (thyme, bay leaf, oregano...).
Marqués de Cáceres: More products

Similar Red Wines