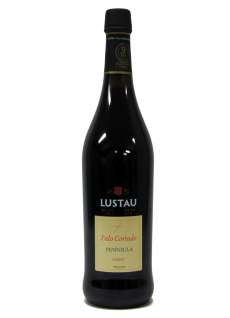 Lustau Península Palo Cortado Sweet wine
Winery: Bodegas Emilio Lustau
Alcohol: 19 %
Variety: Palomino
Quantity: 75 cl
Aged in American oak casks, in the traditional system of Soleras and Criaderas.
Amber light. This Palo Cortado brings the refinement and delicacy of an Amontillado, along with body and richness of an Oloroso. It is a prized and limited, dry type with marked countersunk flavor and nuances of vanilla, coffee and dark chocolate.
As an aperitif with olives, almonds, cheese, or ham. It can also accompany broth, soups, smoked meats, foie gras and many dishes of oriental cuisine.
Awards or Recognitions:

96 points Parker.