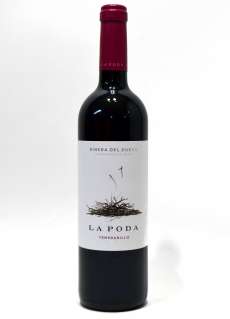 La Poda - Ribera del Duero Red wine
Year: 2016
Winery: Bodegas y Viñedos Villa Mayor
Alcohol: 14 %
Variety: Tempranillo
Quantity: 75 cl
Vineyards of 12 to 15 years from plots located in the areas of Valladolid and Quintanilla next to the winery. Aging in French oak barrels.
View: intense Cherry with blue highlights.
Nose: black fruits and Red Balsamic and light spicy souvenirs.
Mouth: juicy and round, with a fantastic balance on the palate.
Ideal for tapas with cheeses or sausages, or to accompany meals such as pasta, rice, legumes and roast, as cooking fusion with an exotic twist.
Similar Red Wines