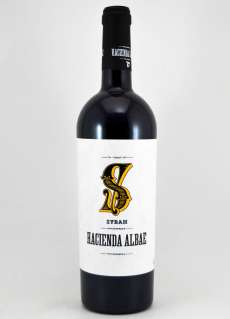 Hacienda Albae Syrah Red wine
Year: 2017
Winery: Hacienda Albae
Alcohol: 14 %
Variety: Syrah
Quantity: 75 cl
Hacienda Albae Syrah is the result of the perfect adaptation of a variety that expresses its maximum potential in hot climates. Here, our Syrah matures slowly, retaining all its aromatic potential and obtaining an intense and fruity wine. Although it is undoubtedly the most modern wine in the winery, it maintains the elegance of a great wine.
After carrying out a night harvest, the grapes are quickly taken to the winery where they are cooled to 10ºC to subsequently carry out a cold pre-fermentation maceration for 36 hours. Afterwards, the wine is fermented at a constant temperature of 24ºC for 10 days and, depending on the year, it performs a post-fermentation maceration of between 3 to 8 days. Once the malolactic fermentation is finished, the wine is taken to new barrels of strong-toasted American oak where it is aged for 6 months.
Its intense and concentrated color gives way to a nose with great aromatic intensity, fresh, full of fruit and with a light vanilla aroma from the aromas of toasted oak. In the mouth it is round and friendly, with an explosion of flavors and light nuances of wood, with great volume and persistence.
Cheeses and white meats
Similar Red Wines