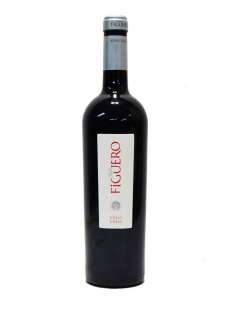 Figuero Viñas Viejas Red wine
Year: 2016
Winery: Viñedos y Bodegas García Figuero
Alcohol: 14,5 %
Variety: Tempranillo
Quantity: 75 cl
Vineyards in glass with more than 60 years, from La Horra: Plots: El Castillo, La Calleja and San Cristóbal. Production 1 Kg strain. Manual harvest made in chestnut baskets of 12 kilos capacity, careful and immediate transport to the winery. Deposit to deposit by gravity, OVI system. Cold film maceration of 2 days at 12º.C Alcoholic fermentation at 29º.C 2 Manual overruns and délestage. Maceration after fermentation 14 days. Malolactic fermentation in November-December. Aged for 15 months in new barrels 25% American and 75% French. Clarification with egg white
Bottling and aging and aging in it for 12 months before leaving the cellar.
View: High layer intense and deep cherry color with very vivid tones. Clean and bright with dense tears.
Aromas: Complex and intense nose. It dominates the ripe black fruit (blueberry, blackberry) with spicy touches (nutmeg, black pepper) and a very fine wood perfectly integrated.
Taste: Dense mouth with great tannic structure and very good balance. All the fruit of the nose is concentrated in a fleshy mouth and a long and tasty finish. Tempranillo with a lot of charm and great potential.
Pairing with grilled red meats, stews, meat rices, risottos, sausages, legumes, goat cheeses.
Similar Red Wines