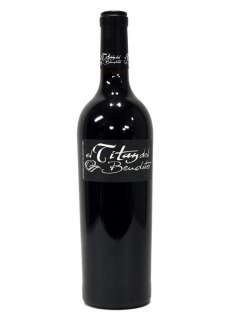 Titán del Bendito Red wine
Year: 2017
Winery: Dominio del Bendito
Alcohol: 15,5 %
Variety: 100% Tinta de Toro
Quantity: 75 cl
ELABORATION: Fermentacion-maceracion was carried out in small concrete with epoxy (of 4000 liters) between 25 to 40 days depending on the vintages. Pumped, pumping over: Are more or less frequent depending on different lots. Extraction is important-nothing else incubate the grapes. The wine still not fermented and already has lots of color, flavor and some tannin! It also tends to have different organoleptic traits from the start.
Ageing: barrel oak exclusively French, the best parts of my best Coopers that I could choose over the years. 100% new oak: labels strains as well claim it and absorb over time. During several vintages did tests of parenting for my Titan with special of a wine, blind tasting in spring, always disappointed me. If I use only new barrels is the experience.
Raising minimum of 20 months and working technique with the Lees first months of aging.
BOTTLING, filtering and aging: lightly filtered at low pressure to ensure greatest aromatic purity and greater stability over time. Bottled on the property by a team of professionals dedicated to the activity.
Visual: deep purple.
Nose: complex, powerful, and elegant nose of BlackBerry, licorice, BlackBerry, touch light vanilla. To the oxygen, exhale complex aromas of red and black fruits, black currant, cassis and a touch of violet.
Mouth: marked by a deep and intense fruit
Similar Red Wines