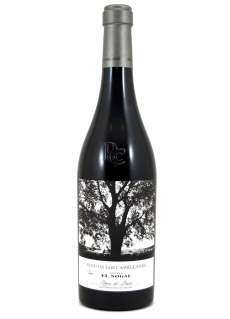 Year: 2016
Winery: Bodegas Pago de los Capellanes
Alcohol: 15 %
Variety: Tempranillo
Quantity: 75 cl
Wine made from the grapes coming from an own plot called El Nogal (6 hectares of tempranillo grafted with our Picon fingertips). We get a few outstanding grapes, with a maximum yield per hectare of 4,000 kg., reaching a high concentration of aromas, colour and noble tannins.
After an exhaustive tracing of this plot, harvest and prepare independently compared to the rest of our wines is decided. In order to obtain the maximum aromatic intensity, is carried out a pre-fermentation maceration at low temperature (14 ° C) for six days.
Later, controlled fermentation in cone of French oak wood with native yeast, at 26 degrees and is above - incubates up to a total of 28 days.
Malolactic fermentation develops slowly and quiet without addition of bacteria, to 22 ° C during 20 days in French oak barrels. Subsequently, the wine rests 22 months in new barrels of French oak of selected grain passing through 4 different types of oak.
Once this period of ageing in wood, is bottled without going through cold, or clarify, or filter.
Intense dark Cherry colour with purple reflections. High layer, it is very bright, has a pretty tear stained, dense and abundant. It is a red wine with a nose full of nuances, dominated by aromas of flowers and black fruit, subsequently appearing tones of vanilla, cocoa, roasted, new leather, confirming the good Assembly of wood with the grape. Tones of sandalwood and spices, as well as tobacco and licorice leave a pleasant and intense memory. The entry on the palate is elegant and fleshy. It has a powerful and complex, with a good fruit load, integrated acidity and tannins noble and powerful. Long finish, it leaves an aftertaste of ripe grapes and an intense aromatic persistence, smoked and roasted. A serious and complex wine.
Lamb stew, grilled red meats, stews, Civet, feather hunting, hunting of hair, mature cheeses.
Similar Red Wines