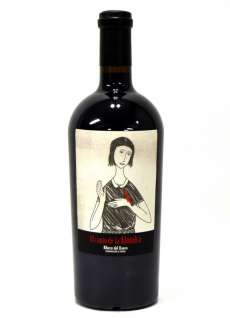 El Canto de la Alondra Red wine
Year: 2018
Winery: Oenovacion A.
Alcohol: 15 %
Variety: Tempranillo
Quantity: 75 cl
Made with Tempranillo from the Páramo de Olmos de Peñafiel, and vinified with care. The harvest is carried out manually and the grape is selected in the strain and when arrives at the winery. The development is traditional, used a vertical press and foreign yeasts are not used. They are battonages' newspapers to extract the maximum expression. And it raised during 13 months in 9 Bordeaux casks of French oak and American oak. It is not filtered and used a clarifier of vegetal origin that makes it suitable for vegetarians and vegans.
The song of the Lark is a surprising, complex, lively, elegant and subtle wine. Initially emphasizes its delicate fruity and floral, nature that is slowly giving way to more complex, honeyed, aromas of dried fruit in compote, toasted nobles and minerals. When it finally reaches the mouth, it displays its authentic character, grows and extends to take up all your space. It is a broad, resounding and at the same time sweet wine with a Superfine, and sweet tannin that captivates to not very initiated and passionate lovers of good wine