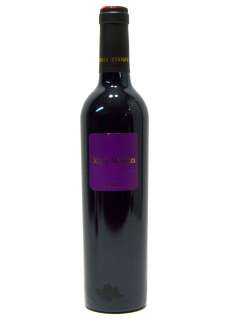 Winery: Enrique Mendoza
Alcohol: 15 %
Quantity: 50 cl
Dolç of Mendoza is a natural sweet wine made with vintages from our vineyards located in the El Chaconero in the so-called spot Cabezo de la Virgen, in Villena.
Only in very special years you can reach elaborate Dolç of Mendoza it needs to especially healthy grapes able to endure the above maturation on the ground to be harvested in the first week of December.
Harvested once the clusters is an fashion and destalked to stainless steel for its subsequent fermentation tanks.
Yeasts which are which transforms sugar into alcohol ferment the wort up to 14% of alcohol. Due to the high alcohol content power many die leaving by fermenting large amount of sugar and giving the wine of his fair degree of alcohol and sugar.
Later colouring in new American oak barrels to soften the tannins and provide it with roasted and smoked products appearing in the aftertaste.
Is bottled without passing through cold and therefore to be clarified with age can have natural sediments.
Presents a dark red cherry with violet hues, of high and dense glass layer.
Nose abundant primary aromas of red berries such as Blackberries, blueberries and strawberries impressed us, leaving behind them fine smoky notes and species such as cinnamon and clove.
On the palate the high level of residual sugar and glycerine caresses the palate, after these soft tannins and acidity us clean.
Long aftertaste again us the fine notes of smoked and toasted bread that are kept in the mouth long.