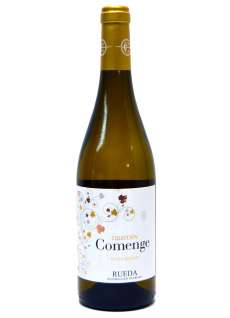 Comenge Verdejo White wine
Year: 2019
Winery: Comenge Bodegas y Viñedos
Alcohol: 13 %
Variety: Verdejo
Quantity: 75 cl
Made only from grapes of the Verdejo variety, grown in vineyards of more than 80 years old from small growers in the town of wheel. They are planted in clayey-calcareous land covered with edges rolled, poor in organic matter, giving the wine of great elegance, refinement and persistence.
Alcoholic fermentation takes place in stainless steel tanks with yeast of grape, wild. Once in the winery, a maceration is performed cold for 12 hours. After the pressing of the grapes, the must is fermented at a low temperature in stainless steel tanks. He has been at rest with its lees fine for six months.
Straw yellow, with steely, clean and bright iridescence.
Intensity medium, very varietal and enveloping scent, highlighting the memory of Hay, dry straw, fresh white fruit, dill, fennel, freshly cut grass and light hints of laurel.
Mouth is dry, tasty, with volume, balance and good persistence. The step in mouth is soft and cheerful, demonstrating its refreshing acidity. All the character of the old vineyard appears on the aftertaste: a subtle and pleasant sensation herbaceous (fresh grass, fennel) that extends its persistence and leaves us an elegant memory on the palate.
Fish fatty and shell shellfish (clams, cockles, mussels, salmon, sardine, mackerel...), snacks, fatty cheeses, cold meats and pates.
Similar White Wines